statement

I am intrigued with the underlying energy that connects all of nature.
My fascination with how this energy moves has made me understand the
things I hold onto, and those I choose to let go of, define who I am as a person.
This discernment is an important part of my process, which involves heavily
layering the paintings surface to create a history that I am able to work back into.
Recovered elements take on new meaning in their revised context.
This additive and subtractive process continues as I make decisions
regarding what I feel is necessary and what isn't. In the end what is let
go of defines the piece as much as what remains.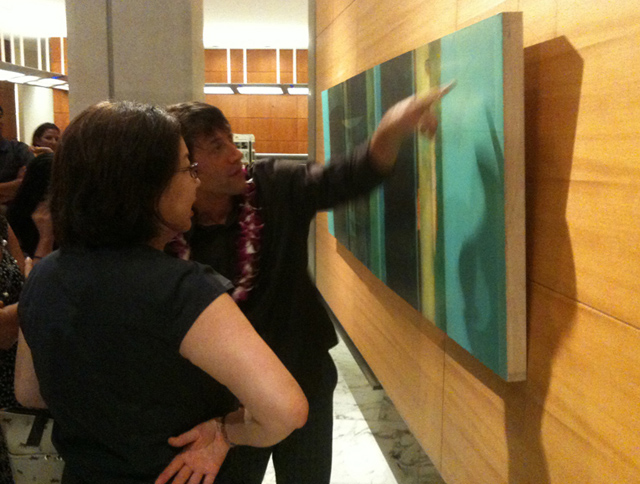 Solo and Invitational Exhibitions
2011 Abstracted Landscape, The Contemporary Museum, Ohau, HI
2011 The Legacy of Land, Schaefer International Gallery, Maui, HI
2009 Featured Artist, Paia Contemporary Gallery, Maui, HI
2005 vision•revision, Livewire, Paia, HI
2003 Aloha, A Street Gallery, Santa Rosa, CA
The Cut, La De Da, Santa Rosa, CA
2002 Pause Continue, Zizi, Healdsburg, CA


Select Exhibitions
2011 Art Maui, Annual Juried Show, Maui, HI
Artists of Maui, 2005-2011, Four Seasons Maui, Wailea, HI
2010 Wax Works, Bohemia Gallery, Ashland, OR
Art Maui, Annual Juried Show, Maui, HI
2009 Art Maui, Annual Juried Show, Maui, HI
Artists of Maui, 2005-2011, Four Seasons Maui, Wailea, HI
2008 Featured Artist, Paia Contemporary Gallery, Maui, HI
2007 Hui No'Eau Members Juried Exhibition, Maui, HI
Sweat the Small Stuff, A Street Gallery, Santa Rosa, CA
2006 Rising Sun at Sunset, Quan Gallery, Lahaina, HI
Art Maui, Annual Juried Show, Kahului, HI
2005 Sprirtus Mundi, Makawao, HI
Art Maui, Annual Juried Exhibition, Kahului, HI
2004 Hui No'Eau Members Juried Show, Makawao, HI
Word Up, A Street Gallery, Santa Rosa, CA
13th Rotation, Next Level, Rohnert Park, CA
2003 Viv and a Movie, Red Devil Lounge, San Francisco, CA
Ten by Ten, SMOVA, Santa Rosa, CA
Encaustic Works , Imani Gallery, Napa, CA
2002 House Show, A Street Gallery, Santa Rosa, CA
Annual Troupe Show, Anne Bradford Gallery, Healdsburg, CA
Art For Life, Friedman Center, Santa Rosa, CA
Resident
Maui, Hawaii
Born
Denver, Colorado


Education
Rocky Mountain Collage of Art & Design,
Denver, Colorado